Archive for the 'Nail Fungus Prescription Medication' Category
The Ins and Outs of Treating Fingernail Fungus Infection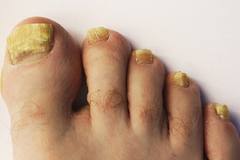 Our nails are mad of keratin, which is similar in structure to bone but not the same. It works to protect parts of the skin and tends to be a telltale indicator for signs of internal problems.
Most people are familiar with toenail fungus infections. A lot of people have them and they are caused by the fact that toes tend to spend a lot of time in dark, damp environments and come into contact with a lot of things that may be carriers for fungal spores. However fingernails can also become infected by fungus. The first sign of infection is usually the nail becoming discolored and then thickening, especially along the tips. This looks read more...
How Can I Permanently Cure My Toenail Fungus?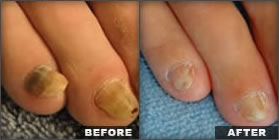 Doctors tend to shy away from the word "cure" when referring to toenail fungus because it is not an easy thing to do. We have become a very busy society that believes popping a pill will take care of everything. Unfortunately that is not the case with toenail fungus. Onychomycosis, the medical term for toenail fungus is hard to cure because the treatment regimen is very long and can be quite involved. Most kinds of fungus are able to lie dormant for a long period so people will go through treatment and get positive results, only to find that the infection returns. Curing toenail fungus permanently is a pos read more...
Penlac – Is it a Good Solution for Nail Fungus Infection?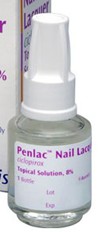 People who spend a great deal of time disguising or hiding their nails from the outside world because of fungal nail infection should really consider treatment for their problem. How wonderful it would be to live free of the unsightly yellowing or white and brown spots that develop on the nail, turning it brittle and making it crumble. Fortunately there are solutions created by modern medicine.
Penlac – An Antifungal Prescription Medication
Ciclopirox, known by its commercial name as Penlac, is a paint on nail medication. It is applied just like you w read more...
Some Useful Information When Looking
for Nail Fungus Treatments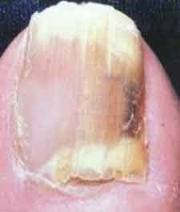 Nail fungus, known medically as Onychomycosis, is not an easy condition to treat. Primarily cosmetic in nature, it most commonly affects the toenails.
People who are at risk for contracting nail fungus are:
Older people,
Males,
People with diabetes
People who have had trauma to their nails
People with hyperhydrosis
People who suffer from peripheral vascular disease
People who have athlete's foot
People with an immunodeficiency
People who practice poor hygine
People who spend a lot of t read more...
Topical Medications to Treat Nail Fungus
There are a wide variety of treatments available to cure nail fungus. Some of these treatments are oral and some are topical. Topical treatments are available as prescription, over-the-counter and natural or alternative. Most people prefer using a topical treatment to an oral medication because the topical medication has far fewer risks associated with its use.
The topical prescription medication Penlac (otherwise known as Ciclopirox) is a relative newcomer to the U.S. market. Approved by the FDA in 1999 and in Canada in 2004, this was a wonderful improvement in the treatment of nail fungus as read more...